HISTORY
The prowess wealth and cultiveal eminance of Kerala were primarily dependent of Valluvanad and Kozhikode. This astonishing condition was attributed to the merciful blessing of the Godess whom the families of Valluvakkonathiri and the Zamorin of Calicut worshipped with intense devotion.
Sree Valayanad Bagavathy is the family diety of Zamorin Swaroopam Despite the great army and financial strength of the Zamorin Raja he could not subjucate Valluvakkonathiri who as his political foe in their struggle for power. The Zamorin who could not win his battle against Valluvakkonathiri understood that the reason for his failure in the battle was due to Valluvakkonathiris high spiritual strength. Valluvakkonathiri acquired this power because of his intense worship of Devi. Therefore the Zamorin Raja also started worshipping Devi intensely. Devi was immensely pleased with the Zamorin and appeared before him. The Zamorin pleaded with the Devi to come over his place and settle there Devi who agreed to do so was ceremoniously led to his place and consecreated at Valayanad in Kozhikode. After this he worshipped Devi permanently from Valayanad. This is the traditional belief relating to this temple.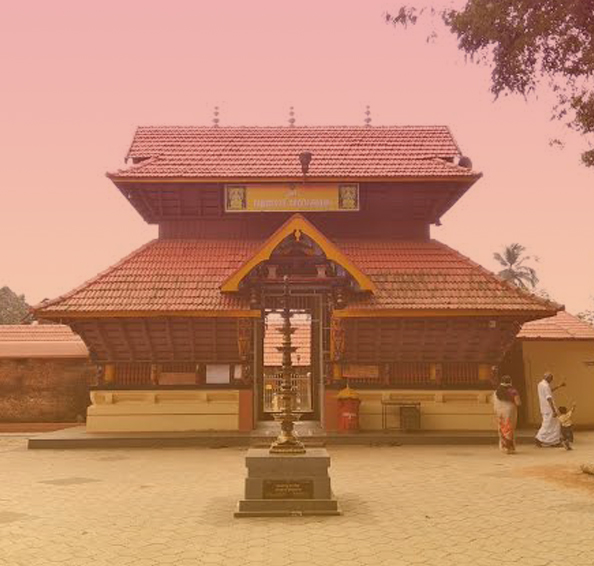 This Devi temple at Valayanad had its own distinct identity and is different in several respects from other Devi temples in this country. The Valayanad Devi Temple in Kozhikode one of the rate "Saktheya Temples" where pooja is performed in accordence with practice of "Rurujit" worship. The presiding diety of this temple is the goddess from Kashmir, known as "Chandika" which is also called "Mahartham" and 'Kalasarppini'. The priests of this temple who perform pooja according to "Saktheya" injunctions in this temple are Moosads who follow Kashimiri way of worshipping. Another peculiar aspect of this temple is that the "Sreechakra" designed by the great Sivayogi Thayyavur Sivasankar remains in the sanctum. Sumctorum where the presence of the goddess believed to be ever present. Those who worship this powerful goddess are sure to realise their desires and the extermination of their foes is also certain. Another particular feature obtaining in this temple is that there is Saptha School of architure. Idols of Siva, Bhagavathi, Lord Ayyappa, Vigneswara also remain consecreated in this temple. An important ritual conducted from this temple is the "Guruthy Tharpanam" done from the path way of "Kshethrapalan".
Annual festival of this temple will commence every year on the day of Karthika of Makaram and continues for seven days. There will be "Kalamezhuthupattu" from 1st Vrichikam for forty one days during the Mandala season.